May you be filled with loving kindness, may you be well,
may you be peaceful and at ease, may you be happy.
| | |
| --- | --- |
| Posted on August 14, 2014 at 10:02 PM | |
Today's guest post is from Lucy Curtis... The Amazing Lucy Curtis!  Lucy is a yoga teacher at the 500 hour level (an advanced certification).  She is a groovy DJ and she makes her yoga classes fascinating through the use of storytelling.  When I have attended Lucy's yoga classes, I have always learned some new things about the ancient roots of yoga and I have always laughed because of the way she phrases things.  I remember one time she told the class to hold our hands in front of our chests as if we were "holding something amazing in them, like a library card!"  She is quirky and deep and an amazing yoga teacher.  She has a wonderful way with words, too, as you will see.
_______________________________________________________________________
What Yoga Has Taught Me About Making Art
First I was invited to design and make my own hat at a High Tea thrown by Elisabeth Koch, who is my oldest friend on Earth. We spent most of the 1980's playing Barbies and building kudzu forts in the suburban Atlanta neighborhood we shared. Elisabeth's family moved to Europe when we were just 12 or 13, but we've always kept in touch. She's since lived all over the world and in recent years has made a name for herself as mainland China's only couture milliner. Elisabeth's hats are beautifully crazy and crazy-beautiful and can be found on the heads of socialites and in the pages of Chinese Vogue. I jumped at the chance, not only to catch up with my friend who only comes to America a few times a year, but also to make my very own fabulous hat!
Then the very next weekend, another dear friend, Atlanta artist Heather Johnson, invited me over for brunch and to make our own linocuts, which is a printmaking technique. First you draw a picture and transfer it to a piece of linoleum. Using a little gouging tool you then carve out the negative space so that the image shows up. Then, after slathering a piece of plexiglass with ink, you press the linocut into it and finally print the image onto paper. I'd never made a linocut before and drew a complicated little cartoon for my future husband of all of his favorite things. It includes me, a skateboard, our two cats Debbie Harry and Joan Jett, his Gibson Les Paul guitar, and a fishing rod with a lunker of a bass dangling from the hook.
In both creative pursuits, I felt an exquisite feeling of happiness that was so intense it surprised me. I wasn't just making a hat to wear to a party or making a little present for David "Dreamboat" Lane, I was truly connecting with my soul through art. I've felt this feeling before, sometimes in nature, certainly while watching live music (if you want to experience enlightenment through your ears, check out The Purkinje Shift at the Earl on 8/ 28), but most often on my yoga mat. In fact, I feel like my yoga practice is what's trained me to be able to feel that soul connection in the first place. Here are 3 things my yoga practice has taught me about making art:
1. Trying is Succeeding
I remember making a scribbly mess as hot tears rolled down my cheeks when, as a kid, I couldn't get the perfect mermaid on a rock out of my head and onto the paper. At that moment I threw in the towel, decided I was "bad at art" and began to pursue other interests even though making art had always felt so good when I wasn't obsessed with a perfect final product.
In yoga there's no such thing as a perfect final product. Yoga is not competitive. It's about the practice for each individual, and in yoga trying is doing and doing is succeeding. It's not like you practice yoga to achieve a perfect Tree Pose and then you're named champion of the Yogis and you never do it again. Conversely, it's not like the Yoga Police are going to come in and take your mat and stretch pants away if you fall out of Tree Pose. The physical poses are just a conduit for doing the best you can with the tools you have in the present moment.
Before my yoga practice taught me that trying is succeeding, I might have turned down the opportunity to make art, because I would've been too scared to try and fail. I might have spent my time comparing my work to others instead of diving into my own experience. Now, however, the hat might turn out ugly or the linocut stupid-looking, but I'm not going to let fear of a non-perfect final product stop me from throwing myself into the experience with all I've got.
 2. Positive Self Talk
At both events I noticed that as people were working on their pieces, they were dogging themselves and their artwork, pointing out all the ways they were sucking. At the same time, they were freely complimenting other people's work. They say we're our own worst critic, and I saw that in action for sure.
In the years that I've practiced yoga, I've noticed a definite shift in how I talk to myself and about myself. The first rule of yoga is ahimsa, which means non-violence or non-harming. You try not to hurt others and you try not to hurt yourself. One way to make your self talk more ahimsic is to talk to yourself like you were talking to your best friend. I've even used this band from Tennessee's name as a mantra: Be Your Own Pet. The whole function of yoga is to control the mind. My yoga practice hasn't made all of my self-critical thoughts disappear, but it's certainly trained me to quit listening so hard.
3. Aparigraha, Baby!  
At the hat making workshop, Elisabeth was running out of black supplies so I got stuck with a pink base for my hat. I felt a flash of greediness. I wanted a black base! I calmed myself down by reminding myself of another tenet of yoga, aparigraha.
Aparigraha means non-grasping or non-clinging; pretty much you get what you get and you don't pitch a fit. Perhaps if I hadn't learned about aparigraha from my yoga practice, I wouldn't have been able to enjoy making a pink hat, but as I ungrasped my mind from the idea of having to have a black hat, I began loving it more and more.
Here is Lucy in that fabulous pink hat: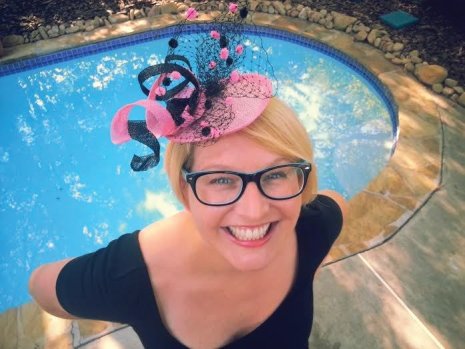 Lucy Curtis is the cofounder of Art & Action, a yoga and art program for kids. Learn more about what she does and contact her at the website:
artandactionatlanta.com
Categories: Creativity, Yoga
/