May you be filled with loving kindness, may you be well,
may you be peaceful and at ease, may you be happy.
| | |
| --- | --- |
| Posted on May 10, 2013 at 12:52 PM | |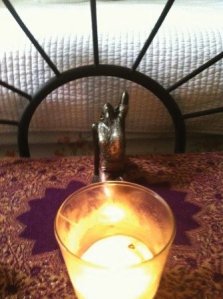 The events of the past few days have left me wondering about our world.  Three young women held hostage and tortured for ten years in a basement- in Cleveland, Ohio? By a bus driver?  This world seems filled up with madness and it sometimes seems like it just keeps on coming. 
I am not a counselor, but I play one on TV
My many years as a massage therapist have helped me listen to others very deeply.  I have taken myself to therapy several times, sometimes for years at a time, in order to become my more authentic self.  It is wonderful work and I am thankful for it.  One thing I have learned in all that time is that things that are overwhelming need to be put in some sort of container.  
The mind is going to worry
It is the nature of the mind to have a problem.  It always has a problem.  That is not something that is likely to change any time soon.  But we can direct that worry.  The beauty of worry is that it is just energy, just like anything else.  It is thought spinning its wheels.  If we let those spinning wheels have some direction, then they might actually get us somewhere.
Time to light a candle
Each day, I spend an hour or two on my computer, either typing up blog posts or watching Netflix or just surfing.  I have a candle behind me on my altar.  Now, for that hour or two that I am on the computer, I light that candle.  I put all the worries I have into it- whether it be someone I love who is ill, or who has lost someone special or some world event.  I let that hour or two have an element of prayer and wishing the best for the situations and people that I put into the candle.  You can bet those three girls and that little girl- and even that man who held them hostage- will be in that candle tonight.

And then it's bedtime
At bedtime, I blow the candle out, asking the best for all those I have wished for. The smell of the candle wafts up to my nose, I see the smoke lift up toward heaven, and I know I will light it again tomorrow.  In this way I find some peace.  I turn off the light, climb into bed, and I sleep.

Categories: Dealing with overwhelm, Meditation
/