May you be filled with loving kindness, may you be well,
may you be peaceful and at ease, may you be happy.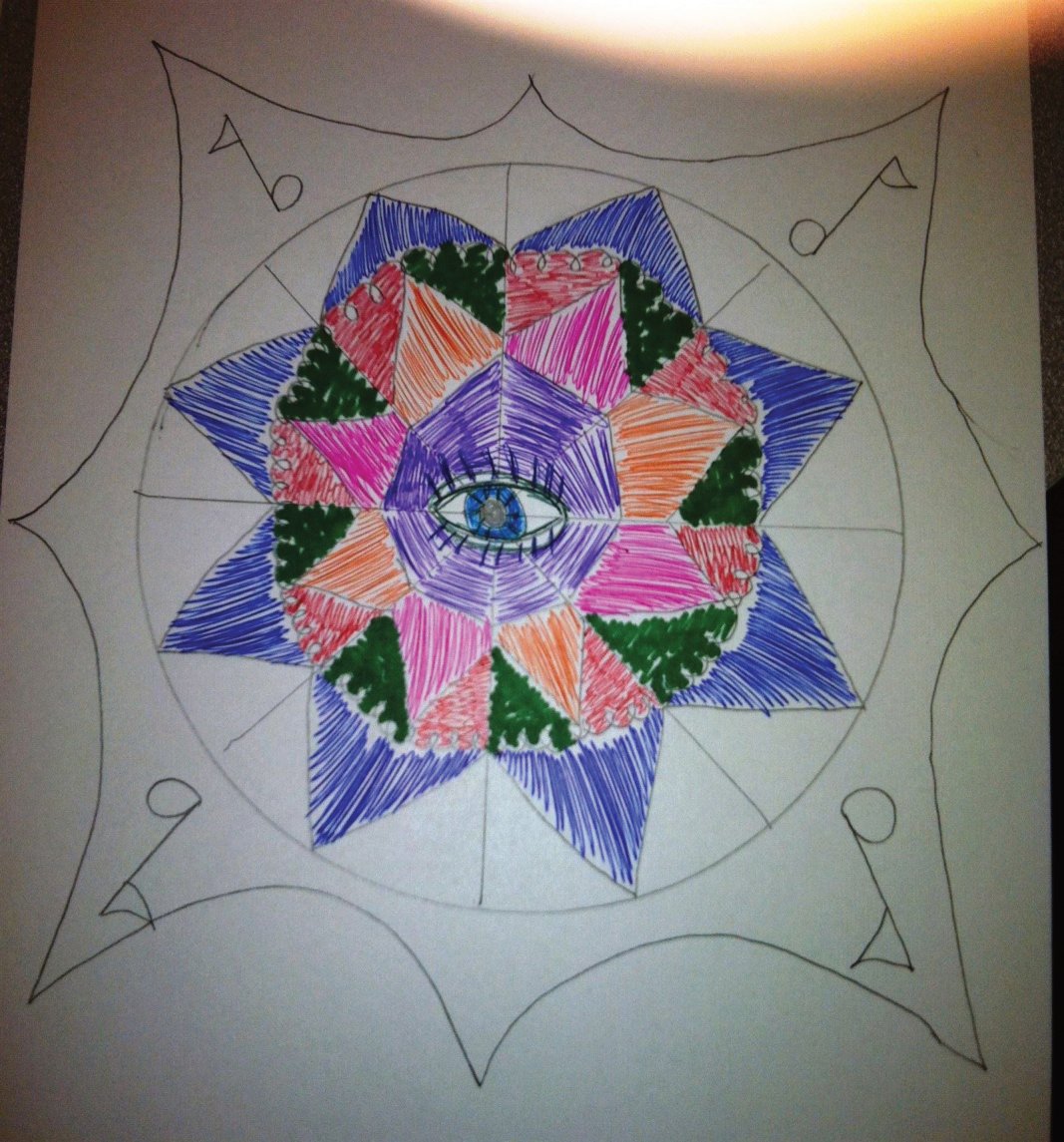 I went to the coffee shop and worked on my mandala today.  I forgot to bring in the rest of the pens, but I had a nice blue pen.  I used that to color in the next layer.
There were two ladies- one older, one younger- church ladies- seated beside me.  They were gossiping about the other women in their church and what bad decisions they were making about men.  
I stared at the eye of my mandala.  But then my tea and cookie came.  I continued for two more minutes, but... not much happened today.  I guess I was too busy thinking about the girls making terrible decisions about men at church.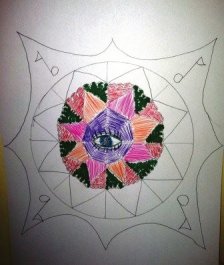 I had several students today come take my mandala meditation class.  We made mandalas and meditated on them.  It was beautiful to see how it came out. 
This picture is of my mandala.  It shows the center point, an eye.  When you meditate on a mandala, you try to focus on the center point of the image.  We sat for five minutes staring at our mandalas on the wall. 

I saw my grandmother's blue eyes in this mandala.  I saw the eye looked like it had something important to say.  And then it looked like it was simply exhausted. 

I took it as grandma telling me to slow down a bit.  Take life as it comes.  Be a little less serious about changing the world for the better.  Maybe the world gets better- maybe not.  But it does not hinge on what I do.
Then I noticed my mandala is a little off-center and looks like a patch, the way I colored it with pens mostly.  It has a woven quality.  It strikes me as looking very strong.  Maybe a little bit misfitted, but significantly strong. 

With mandala meditation, you work with it every day- coloring it in, adding to it, meditating on it (maybe you could call it "listening" to it), and journaling about what it tells you each day.  I will keep you updated...

/